Acupuncture for Insomnia, Depression and Anxiety – Is it Effective?
There are many reasons to believe that acupuncture for insomnia, depression and anxiety can be beneficial. Today, individuals are turning to alternative methods of health improvement rather than traditional medicine. They are doing this because of the cost of health care as well as the harmful risks that are involved in taking medicines. The question is, though, can acupuncture truly be beneficial to your body as these chemical types of medications are?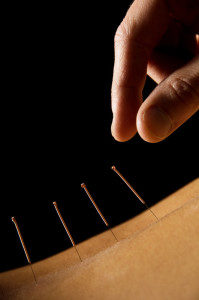 Though it seems to be something of wonder to most, acupuncture has been around for hundreds of years. It is part of traditional Chinese medicine techniques that date back 1,000 BC. The process includes the use of needles that are inserted into the skin in specific places. These places are called acupuncture points and are located throughout the body. By doing this, they are supposed to restore the health and well being of the person. But, what about acupuncture for insomnia, can it be helpful?
Acupuncture for insomnia treatment is not definitive. In other words, there is no 100% guarantee that this treatment will work. Some of those that have suffered from insomnia that have had a skilled, professional acupuncturist do the procedure have reported back some claims of getting a more complete level of sleep. But, the catch is that in order for acupuncture to benefit the body, there is the need for the right amount of procedures to be done.
You may need to give the body time to correct the imbalances that it faces before you will see a definite improvement in your sleep.   Acupuncture has been seen to improve some sleep patterns, but additional help in correcting the way that you live and the overall health that you have may also be needed.
What about depression and anxiety? Can these conditions be improved with acupuncture? Depression has many forms. Some are much more serious than others. Those that are suffering from severe forms of depression should never stop taking their medications without the advice of their doctors.
When it comes to acupuncture for depression, there have been several studies done to help to answer this question. In traditional forms of acupuncture, it is said to be able to restore the balance of the qi in the body. This is done by altering the flow of energy throughout the body's meridians. So, in traditional forms of acupuncture there are said to be benefits of this procedure.
Now, take this to the Western medicine and you will likely have studies that show that there is little effect in the body from acupuncture for insomnia, depression or anxiety. The facts are like this for a number of reasons…
For one, each person has something different that is causing their imbalance. While acupuncture may work for some, it may not work for others.
Secondly, there may be other health conditions that are causing insomnia, depression or anxiety in the individual and therefore acupuncture – or other type of treatment – may need to treat that as well.
If this all sounds like an indecisive answer to whether acupuncture for insomnia, depression and anxiety works, that's because there are so many views on this subject. Some believe that it can work. Some clinical studies have shown benefits for those with depression through the use of acupuncture or at least that the benefits from medications and therapy were no better than the acupuncture was.
While it may be beneficial to your health to use acupuncture, always consult your doctor and work with him or her to help you stop or reduce the dose of prescribed medications – if you want to avoid their side effects as much as possible.

Natural Alternative to Acupuncture for Insomnia.
If you are struggling with insomnia, depression and anxiety and are looking for alternative sleep remedies for insomnia, you may want to learn more about a safe herbal supplement that has been formulated by psychologists and experts in natural medicine.
A high-quality supplement that includes proven herbs that help deal with depressed mood, disturbed sleep patterns, anxiety and panic attacks is called MindSoothe.
This formula has brought positive changes to many people and we think it's worth investigating. To get more information on this herbal remedy for anxiety, depression and sleep problems, click here.
Discover how MindSoothe has helped others regain Balance and Joy
MindSoothe has been used to help relieve symptoms for thousands of depression sufferers. Here is what some of them have to say: "Taking MindSoothe has been an absolute savior for me. When I started suffering from anxiety/depression/de-realization following the birth of my second son, I thought I was losing my mind.I struggled to cope with day to day things; felt self-absorbed and couldn't enjoy my children anymore. I was losing control and thought I was a terrible mother. I didn't want to have to tell my doctor (a stranger) how I was feeling and I was adamant that I wouldn't go down the endless anti-depressants road. I started looking for alternative remedies and came across the Native Remedies website. I started taking MindSoothe and something amazing happened – over the following months, bit by bit, I started to feel normal again. I'm now almost back to my normal self. I still get anxious moments but nowhere near what I felt before taking MindSoothe (a more controllable anxiety).I enjoy my family again; I can go out of the house and see other people without feeling terrified; and I can look forward to doing all the things I enjoyed doing before. MindSoothe has given me my life back, and has given my children their mother back. Thank you so much Native Remedies!!!"
– Tina, Wales, UK 
"Your MindSoothe remedy helped my depression so much! It felt like the black cloud had been lifted from my head to let the sun through again!"
– Fran, USA
"After taking Zoloft for years, I began to feel that I wanted to change to something more natural and better for me. With the guidelines you gave me, I made the transition with very few problems and can truly say that your MindSoothe is helping me even more than the Zoloft did – and I feel much better about it! I can recommend MindSoothe anytime!"
-Joe, USA
"I have been taking MindSoothe and PureCalm for several months now and I am very pleased with the results. I have a very stressful job and I occasionally have bouts of depression. MindSoothe and PureCalm have been a very big help."
– Lasley, USA
"I think I had postnatal depression after my baby was born, although everyone said that I just had the blues. I understand that, but almost two years later, I felt even worse! I could hardly get up in the morning to face each day, which was soooo unlike me! MindSoothe has made such a difference. Now I have the energy to play with my little boy and my husband says he has the old me back again!"
– Vanessa M., USA
"I have been having trouble with depression and my emotional outbursts and uncontrolled anger and harshness have caused me marital problems and relational problems with my children. I started taking MindSoothe in January along with PureCalm when needed. The lift I received from Mindsoothe was incredible! I felt more in control of my emotions and PureCalm is wonderful as well for helping my anxiety and moods swings. Thank you Native Remedies for your help and your products!"
– Paula L., MI, USA   
"Suffering from depression, I have been on different prescription drugs throughout the years. They never really helped me. While doing a search on the Internet for natural remedies, I came across your site and decided to try MindSoothe. I must say it works better than any drug. After only a week, I started to feel a difference. Family, friends and co-workers noticed a change in my mood. I would recommend this product to anyone suffering from depression. Thank you so much."
– Bernard W., NJ, USA
"Dear Native Remedies, The products you recommended (MindSoothe and PureCalm) have more than lived up to their billings. Josh is doing better now than he has been in the past 6 years and after numerous attempts with medications and supplements. My wife and I have noted a tremendous positive change in him and it is wonderful. I am grateful beyond words to Native Remedies and its team. We have reordered the product and will keep him on it for now. I assure you that I will recommend your products to anyone I talk with. AGAIN, A MILLION THANKS FOR THE HELP YOU HAVE BEEN!"
– Jay Bryan, USA
"I've always been a very cheerful and optimistic person. Unfortunately, due to various experiences, circumstances in more recent years I've found myself often feeling very depressed and tearful. I decided to try MindSoothe based on the testimonials of others on the site. I know that everyone experiences different response times, but from the first day that I started taking the product I felt a lift. By the second day, I found myself extremely cheerful and happy at work and realized that I was already experiencing the positive effects of the MindSoothe. I continued taking the product and feeling good until I discovered that I was pregnant. I am about to order Mood Tonic since it contains tissue salts and is safe to take during pregnancy. I'm looking forward to the positive effects. I am trying to encourage my husband to take the MindSoothe as he has recently been under a tremendous amount of stress. Hopefully he'll listen. Thank you for a wonderful product."
– Erica, NJ, USA