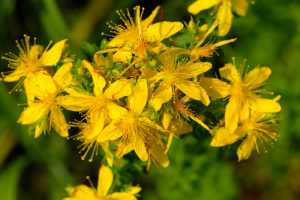 The benefits of St. John's Wort, Hypericum Perforatum  are quite remarkable. This is a very popular herb has been used for  hundreds of years for the treatment of anxiety, tension, irritability as well as mild to moderately severe depression.
What makes it effective?
Researchers have found that a key compound in this herb, called Hyperforin, seems to play an active role in the mood-boosting properties of St. John's Wort. Hyperforin is a phytochemical, which basically means it is a compound that comes from a plant. In the case of St. John's Wort, hyperforin is one of the active constituents that gives the plant its effectiveness as a natural antidepressant.
Hyperforin and another important element, hypericin, are thought to improve the function of neurotransmitters in the brain, such as serotonin, which are linked to feelings of anxiety and depression.
St. John's Wort works differently than the common anti-depressants and anti-anxiety drugs on the market, but in some studies the plant compounds have been found to be just as effective as the chemical drugs.
Common extracts of St. John's Wort contain between three and five percent hyperforin, between three and five milligrams in a 100-milligram pill. This range is usually claimed on products containing St. John's Wort and hyperforin, but the exact percentage is difficult to standardize because different plants vary in their concentration of the phytochemical.
How long will it be before you start experiencing the benefits of St. John's Wort?
Studies involving St. John's Wort and hyperforin at five percent have been shown to affect brain activity within eight days of beginning to take the pills. But, considering that everyone's biochemistry is different it may take a bit longer than that to feel a significant result. If you have been taking St. John's Wort for a month to six weeks and have not seen a significant improvement this herbal remedy might not be the right for you.
St. John's Wort Side Effects.
First of all, St. John's Wort does not cause the sexual side effects or nausea that many prescription depression medications can cause.
Possible side effects of this herb include dizziness, confusion, dry mouth, sensitivity to sunlight, allergic reactions, fatigue, dry mouth and restlessness.
St. John's Wort is not recommended for treatment of severe or manic depression, but it is considered quite safe and effective for mild or moderate depression. Of course it is important that you talk to your doctor before you self-medicate, especially if you are pregnant or nursing, have HIV/AIDS or have high blood pressure or other medical problems.
Recommended Dose
St. John's Wort is widely available. The recommended dose is usually 900 milligrams daily taken in three 300-milligram increments. For best results, use a formulation that has three to five percent hyperforin. Remember, though, that herbs are not regulated by the Food and Drug Administration, so make sure you get a professionally manufactured brand. You also may want to try St. John's Wort as a tincture or make your own herbal tea.
A Natural Anti-Anxiety and Antidepressant Remedy
St. John's Wort is just one of the most popular and effective herbal remedies for anxiety but as mentioned before it does not fit everybody.

PureCalm is a complex calming remedy which can be taken at the first signs of emotional distress,stress and times of high pressure.
Physical signs of stress and anxiety can include dizziness, rapid breathing, nausea,a feeling of shakiness and a pounding heart.
PureCalm encourages relaxation and positive thinking, without the risk of addiction, drowsiness or other dangerous side effects. It can be used for people who have a hard time relaxing or turning off those constant nagging thoughts and worries before social situations.
Leading natural calming remedy for managing everyday worries
Soothes fear and nerves, helping maintain a positive outlook
Balances emotions and helps to soothe apprehension
Promotes calm during times of high pressure, stress and nervous tension
Helps alleviate physical manifestations of stress on the body
Supports healthy feelings of well-being
Promotes harmony in the brain and nervous system
To learn more about the benefits of PureCalm…..


Wishing you inner peace and happiness, your friends,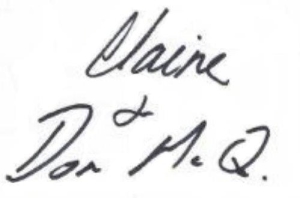 How has PureCalm helped others………?
PureCalm has been used to help calm and soothe thousands of anxiety sufferers. Here is what some of them have to say:
"I have suffered from anxiety and panic attacks for 25 years. I tried daily medication but most of them made my anxiety worse. I was leery of trying anything over the internet and had looked at websites for the last few years.  I don't know about anyone else, but I'm always afraid of trying new medicine in fear of side effects. If anyone reads this and is afraid to try it; don't be. I have been on PureCalm and Triple Complex Calm Tonic for about a month, and I can honestly say it has changed my life. I have not taken medication since I started taking it. Thank you Natural Remedies for my daily relief.
– Teresa K., IL, USA
"It works!  I have had anxiety for a year, and it's the worst thing in the world.  I have been trying all that you can imagine, and finally I found PureCalm. It is a blessing for me and my family. I have my life back, and I want to recommend this to others who suffer from anxiety and panic attacks because this really works and fast! I'm free of them now, thanks to your remedies. Thank you, thank you. "
– Paola N., CA, USA
"I am a 36 year old woman that has been suffering with panic disorder with agoraphobia for over 13 years. Off and on, I have been on medication. This year it stopped working. The dose got higher and higher and the panic disorder got stronger and stronger. I was at my wits end as a single working mother of a teenage daughter. I was losing hours at work leaving due to panic and unable to shop or go anywhere with my daughter for entertainment, etc. Even stopping at the local pharmacy for a bottle of detergent or something quick was nearly impossible to do. I was researching on the Internet for a cure or other methods of controlling panic disorder when I came upon this site. I take PureCalm twice a day and MindSoothe (2 capsules), twice a day and have not even had one panic attack or even any symptoms of a panic attack. I have my life back. I have my freedom back. This medication is definitely a blessing. I am truly grateful. I take nothing else for the disorder. Thank you so much!!!
– Christine, PA, USA
"PureCalm has helped me remarkably I find myself wanting to be around my family and friends and I'm no longer afraid to be in large groups of people. I also find it a lot easier to engage in conversation with others. This is a great product!"
– Michael, FL, USA
"To all those out there who are dealing with anxiety and wondering if PureCalm really works. I have been using PureCalm now for about five months. I was really going through hard times with anxiety attacks. I was finding myself wanting just to stay at home because I thought no one would understand the fears I was dealing with. When I went to the doctor they wanted to put me on medication. I wanted something natural. One night when I couldn't fall asleep, I went down stairs and prayed asking God please show me what to do. I felt that I was to get on the Internet and look up under panic attacks and anxiety disorders. I came to this sight and saw the ads for all natural products. This is what I have been looking for. I ordered the product and got it quickly from the company. I tried it right away. Praise God it worked!!! Now I am telling all my friends' family members even my doctor. I don't have to take drugs I can do the natural way. Since being on the product I can now go places I couldn't before. I am truly grateful to your company for making PureCalm. I hope and pray that PureCalm helps others as it has done for me."
– Cheryl, MN, USA