A Natural and effective treatment for Psoriasis.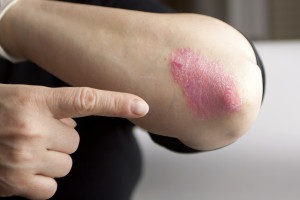 The main goal of traditional psoriasis treatments is to decelerate the growth rate of skin cells and control the condition for long periods of time. It is the fast growth rate of skin cells that is responsible for the itchy flaking raised red,white and scaly psoriasis patches.
Even though there are traditional psoriasis treatments that are effective and provide results, many of them can have significant side effects.
Fortunately there are a number of effective natural remedies available now depending on the type of psoriasis and its severity as well as looking at dietary options and life style. We look at a proven natural solution here.
 There are many types of psoriasis:
The most common is plaque psoriasis, also known as Psoriasis Vulgaris, which is characterized by red scaly patches of skin that are often covered by silver scales. These patches are extremely painful and they may bleed.
Approximately eighty five percent of people suffering with this condition have this type of psoriasis which can affect the knees, elbows, chest and lower back, as well as the nails and scalp.
Other types  include:
Guttate psoriasis.- This affects ten percent of sufferers and the drop-like shapes of scales can cover large patches of the upper torso and may spread to the arms, legs and scalp.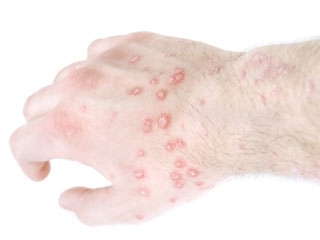 Pustural psoriasis. -This is a rare form of psoriasis that usually attacks the hands and the feet and is characterized by pus-filled pimples. The causes and symptoms of this type of psoriasis differ; it can be caused by the cessation of prescription drugs or as a result of an infection or sunburn. Lithium, a drug used to treat bipolar disorder, as well as certain beta-blockers used to treat high blood pressure, can cause a flare up.
Inverse psoriasis.- This is characterized by dry red patches in the folds of the skin and is more common in people who are overweight.
Erythrodermic psoriasis. -This type of psoriasis can be extremely serious because it covers a large area of the body, and in some cases, all of it. When the skin becomes inflamed it creates an increase in blood flow which in turn speeds up the heart rate. Since the inflamed skin covers such a wide area the additional strain on the heart is a cause for concern.
Psoriatic arthritis – Many people go on to develop joint inflammation with arthritis symptoms.  This is known as psoriatic arthritis. We have tracked down an excellent product to effectively help those with psoriatic arthritis, visit here to read more.
Psoriasis Treatments – Topical, Systemic and Phototherapy.
Psoriasis, as is the case with other autoimmune diseases, attacks people differently. As a result treatments vary widely with completely different effects.
Topical Treatments
For a person with mild to moderate psoriasis, a topical approach is the preferred treatment to start with when choosing from the various available psoriasis treatments.
There are many different strengths in these topical treatments and the level prescribed will be in accordance with individual needs and responsiveness.
Systemic Medications
These are reserved for people who suffer with moderate to severe psoriasis and don't respond well to topical medications. These work by suppressing the immune system and reducing inflammation and the rapid growth of cells. Unfortunately, many people experience side effects and discomfort with these medicines.
Photo Therapy.
This involves exposing the skin to an artificial ultraviolet light source. UVB radiation goes into the skin and slows down the fast growth of skin cells associated with the condition, resulting in clear skin. Studies indicate that the continued use of this treatment may help prolong remission time. However, irritation and sunburn may appear as side effects of UVB treatment and, even though there is no evidence of increased risk of skin cancer from this type of treatment, it's important to remember that UVB is a well-known carcinogen in humans.
Natural  Treatments and Cures.
There are some tissue salts and herbs that are considered to be natural cures for psoriasis and are used in the treatment of this condition by addressing internal and external symptoms.
Tissue Salts.
Natrium Muriaticum 6C and Kalium Sulphate 6C are among the salts that are widely recognized for the effective treatment of psoriasis because they:
help hydrate the skin
reduce inflammation
keep cell membranes healthy
reduce the symptoms of scaly skin
assist in the healing and elimination of dead or infected cells
Herbs.
Herbs, such as cleavers and red clover, offer remarkable blood cleansing and anti-inflammatory properties, making them well known as successful natural cures for psoriasis and other chronic conditions involving skin complaints.
A Proven Effective Remedy to stop the discomfort of Psoriasis
A safe herbal formula for adults, children and babies that offers even more benefits than the salts and herbs noted above is called H-psoriasis. This a natural remedy with excellent results ( 4.3 users out of 5 give it a 5 star rating ) for sufferers who have turned to natural cures for psoriasis and is manufactured to the highest pharmaceutical standards. If you want to learn more about psoriasis treatments you can read more here and see what it can do for you.
Get rid of psoriasis symptoms such as pain, irritation & itching quickly and naturally.
Promotes healthy cell renewal and routine shedding of old skin cells
Maintains skin hydration and freshness through supported water balance.
Promotes lymphatic functioning and the skin's ability to purify itself.
Cleanses and purifies the system, thereby supporting skin integrity
Pure natural essential oils
Gentle and effectively calming on your skin
Ingredients are all 100 % natural and proven to be safe.
The active Ingredients:
Calendula officinalis 12C
Iris versicolor 12C
Supporting  Ingredients:
Essential Oil Blend (Cedrus atlantica wood shavings
Melaleuca alternifolia leaf-branch
Melaleuca minor leaf)
Persea gratissima fruit oil
Rosa mosqueta seed oil
Simmondsia chinensis seed oil
Triticum vulgare kernel oil)
You only need to apply a few drops 3 times a day to gain relief quickly and effectively.

Visit here for more information about Psoriasis
May good health be yours,